For Athletes, Trainers And Coaches
Let's Take Brain Injuries Out Of Play
Sports and recreation are a great way to keep our bodies healthy and our minds occupied, but there is a very real risk of injury. In general, the more contact in a sport, or danger in the activity, the greater the risk of a traumatic sport injury. This is why it is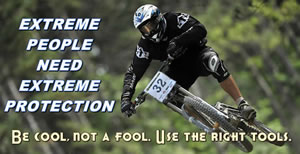 critical to protect the brain.
Brain injuries do not heal like a sprain or broken limb. And, they are especially bad for youth, as they may inhibit or prevent their normal development, and lead to learning difficulties and life long challenges.
Below is information to help you choose the right helmet, how to fit it properly, and suggestions to keep you safe in a variety of sports and activities.
Play hard, but play safe, because a mind is a terrible thing to waste.
Choosing And Using The Right Helmet
Single vs. Multiple Use – Single vs. Multiple Impact
Helmets are described as either "single" or "multiple" impact, and "single" or "multiple" use. This can be confusing, since these terms mean different things.
Single Use – means that the helmet is only certified for one activity. Baseball batting helmets are an example of a single use helmet.
Multiple Use – are certified for use with more than one activity. The helmet certification sticker will designate which activities it is certified for.
Single Impact – is designed to protect you against a single impact, after which you must replace the helmet. Bicycle and most ski/snowboard helmets are usually single impact.
Multiple Impact – means the helmet can withstand multiple impacts before losing its ability to protect. Hockey helmets are multiple impact helmets.




There is a difference between a Motorcycle/ATV and a snowmobile helmet.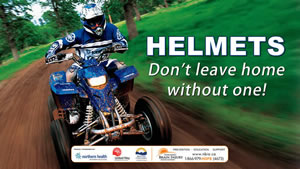 Snowmobile helmets keep you warm and safe from the cold winter air. These helmets typically have a dual lens snow shield, and a breath box that keeps breath off the face shield to keep the visor from fogging up. Some helmets come equipped with a heated snow shield, and open face modular snowmobile helmets are available as well. When you put on the helmet, how does it feel? Was it snug going on? Do the cheek pads make contact? Does the back of the helmet fit properly without being forced forward when you arch your neck? Do you feel a need to push the helmet back on your head at all? When you grab the helmet at the sides, can you rotate it side-to-side? If the helmet is fitted correctly it should cause your skin to move with it when you move. You might want to bring your favorite touque along, so you can fit the helmet with what you'll actually be wearing. Once you've got the helmet on, fasten the chinstraps. Now grasp the helmet from the rear and try to pull it forward as if to roll it off your head. Obviously, if you can roll the helmet off with the straps secured… it's too big!
Head Gear is also recommended by safety experts for many sports, such as:
Bull riding
Martial Arts
Pole Vaulting
Soccer
Vintage Motor Sports
Horseback Riding
General Prevention Tips
Supervise younger children at all times. Do not let them use equipment, or play sports unsuitable for their age, or playgrounds with hard surfaced ground.
Preventing Other Head Injuries
Wear a seatbelt in vehicles.
Never drive while under the influence of drugs or alcohol, or ride with anybody driving under the influence.
Keep firearms unloaded in a locked cabinet or safe, and store ammunition in a separate, secure location.
Remove hazards in the home that may contribute to falls.
Secure rugs and electrical cords.
Put away toys, use safety gates, and install window guards.
Install grab bars and handrails if you are frail or elderly.
Follow rules and warning signs at water parks, swimming pools, and public beaches.
Do not dive in water less than 12 feet deep, or in above-ground pools. Check the depth and for debris in the water before diving.
Wear appropriate clothing for the sport.
Do not wear any clothing that can interfere with your vision.
Do not participate in sports when you are ill or very tired.
Obey all traffic signals and be aware of drivers when cycling or skateboarding.
Avoid uneven or unpaved surfaces when cycling, skateboarding, or in-line skating.
Perform regular safety checks of sports fields, playgrounds and equipment.
Discard and replace sporting equipment or protective gear that is damaged.
Never slide head-first when stealing a base.
Quick-Fit Checklist For Bicycle and Multi-Sport Helmets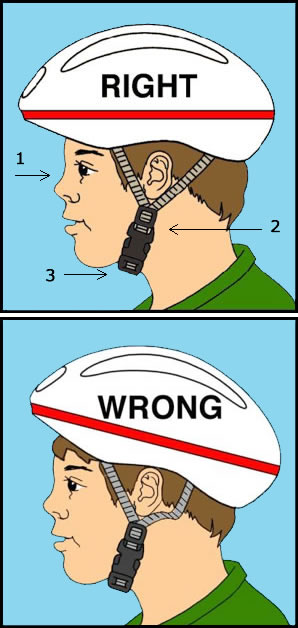 1. Eyes
Helmet sits level on your child's head and rests low on the forehead, one to two finger widths above the eyebrows. A helmet pushed up too high will not protect the face or head well in a fall or crash.
2. Ears
The straps are even, form a "Y" under each earlobe, and lay flat against the head.
3. Mouth
The buckle chin strap is loose enough so that your child can breathe. There should be enough room so you can insert a finger between the buckle and chin. It should be tight enough that if your child opens their mouth, you can see the helmet pull down on top.
Why are helmets needed?
Helmets provide the best protection agains injury, whether your child is riding a bike, scooter or skateboard, or using stakes. Wearing a helmet can prevent about 85 percent of head injuries from bike crashes. However, a helmet will only protect when it fits well.
Help your child get in the habit of wearing a helmet by starting off when they're young. Be a good role model and wear a helmet yourself.
How do I choose a helmet?
Choose a helmet that meets safety standards. For biking, riding a scooter, recreational rollerskating and in-line skating, look for a helmet with a CPSC (Consumer Product Safety Commission) or Snell sticker inside.
Helmet Information For Other Sports And Recreation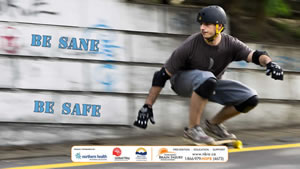 For skateboarding, or aggressive, trick or extreme skating, look for a helmet that has a sticker inside saying it meets ASTM F1492. It is not enough for the helmet just to look like a skate helmet.
There are some helmets that meet both the CPSC and ASTM F1492 standards. They are multi-sport helmets and can be used for biking, skating, riding a scooter and skateboarding. Don't be fooled into thinking that helmets that look "skate-style" are always multi-sport. Look for the two safety standard labels to be sure they are dual-certified.
Helmet costs vary. Expensive helmets are not always better. Choose one that fits properly, and that your child likes and will wear.
Check used or hand-me-down helmets with care, and never wear a helmet that is cracked or broken. Used helmets may have cracks you cannot see. Older helmets may not meet current safety standards.
What are the pads for?
Helmets come with fit pads to help ensure a proper fit. Use the pads where there is space at the front, back and/or sides of the helmet to get a snug fit. Move pads around to touch your child's head evenly all the way around. Replace thick pads with thinner ones as your child grows.
How do I check the fit?
If you can move the helmet from side to side, add thicker pads on the sides or adjust the universal fit ring on the back if the helmet has one.
When done, the helmet should feel level, fit solidly on your child's head and be comfortable. If it doesn't fit, keep working with the fit pads and straps or try another helmet.
Safety tips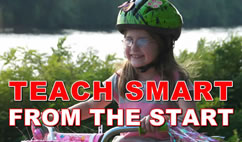 Teach your child to take their helmet off before playing at the playground or climbing on equipment or trees. The straps can get caught on poles or branches and prevent your child from breathing.
Leave hair loose or tie it back at the base of the neck.
For skiing or snowboarding, you will need another type of helmet.
Bike helmets are only good for one crash. Replace the helmet after a crash and when the manufacturer suggests. Follow the instructions from the manufacturer to know when to replace your multi-impact helmet.