Welcome to the Northern Brain Injury Association's introduction to Childhood Brain Injury Prevention.
Toddlers and young children love to explore, climb, walk, run, and dance, which are all natural healthy activities. But, these activities also put them at risk of falls and injuries indoors and out. Evidence suggests that children and youth are at greater risk of mild (concussion) and more serious brain injury than the general population, take longer than adults to recover following a concussion, and that concussions can permanently change the way a child or youth talks, walks, learns, works and interacts with others. Brain injury at any age is terrifying, unpredictable, and takes a very long time to heal.
It is important to note that a child or youth is 3-times more likely to sustain a subsequent concussion while recovering from a previous concussion. Furthermore, while a rare occurrence, a condition known as second-impact syndrome (SIS) may occur if a subsequent injury to the brain is sustained within a day or two after a concussion. This leads to swelling of the brain, which can result in brain damage, causing severe disability, and in a few cases even death. Up to 95% of brain injuries are preventable, so here are some great tips to help keep children safe.
Childhood Safety In The Home

You can help to prevent injuries inside the home just by being aware of hazards, and taking preventative measures, such as:
Lock doors to all dangerous areas. Keep keys out of child's sight and reach.
Children should not have access to fridges, freezers, washers and dryers, because they can get be injured, or locked inside and possibly suffocate.
Use care and provided restraints when using equipment such as high chairs and changing tables, and never, ever leave a child unattended on them. High chairs must have proper straps so children don't slip down and get their necks caught on the strap.
Use sliding gates at both ends of stairways. Avoid accordion-style gates, because a child's head could get caught in the gate (look for gates with openings no bigger than 5.8 cm or 2.3 inches).
Keep stairs free from toys, clothing and clutter.
Use baluster (stairway spindles) netting to prevent small children from fitting their head between the spindles.
Train children to hold onto handrails, and to walk carefully down each step, one at a time.
Attach double-sided tape or a foam backing to throw rugs, or use a rubber pad under them to prevent slippage on hard flooring.
Have children stay seated when eating or drinking.
Do not allow children to walk or run with an object in the mouth. It could cause serious face and mouth injuries in addition to other injuries from a fall.
Toy chests should have safety latches to keep the lid from falling onto a childs head.
Place protective corner guards on all tables, fireplace hearths, doorways, etc.
Ensure that children cannot get behind radiators and heaters.
Secure heavy lamps and art on lower tables to prevent them from getting pulled off and onto a child.
Keep TV's pushed as far back on stands/cabinets as possible. Flat screen televisions should be properly secured to a stud in the wall. If using an heavy older tube style TV, place it on the floor.
Don't allow children to climb on furniture. All freestanding furniture, regardless of height, can tip causing a child to fall and the furniture (as well as what is on it) to fall on the child. Properly anchor furniture to wall studs.
Never leave clothes irons and opened ironing boards unattended.
Windows are very dangerous to children. Use window guards to prevent falls. Make sure window locks are present and working, and never depend on screens to prevent falls. Keep furniture away from windows to avoid children climbing to gain access.
Place cribs and beds away from windows.
Make sure that openings in cribs are small enough to prevent a child's head from becoming trapped, which can lead to choking or suffocating.
Soft bedding materials such as pillows and comforters pose suffocation hazards, and should not be used in cribs.
Install bed rail guards where needed to prevent older children from falling out of bed.
Get down to the child's eyesight level and check floors for potential choke hazards, such as balloons, buttons, etc.. The rule of thumb is that if something can fit into a toilet paper core, it poses a choke hazard to a child.
Check all toys for potential choke hazards, and always keep plastic bags locked away.
Never let children eat alone. The most common causes of choking are from food items, such as; hot dogs, leafy products (like lettuce), peanuts, grapes, popcorn, and similar sized items.
Blind and curtain cords pose a serious risk of strangulation, so need to be shortened so that they cannot be reached. Store excess cord out of reach.
Use toilet locks to prevent small children from falling in a toilet and drowning.
Put locks on knife drawers, cabinets, refrigerator doors, freezer doors, ovens and windows.
Never leave children around unattended ladders.
If you choose to have a firearm in your home, please make sure you follow all safety precautions, including use of a gun safe, trigger lock, and other devices to prevent children from being able to access them or ammunition.
Keep poisons, such as rodent poison, laundry detergent, cleaning chemicals, medicines, lubricants, gas, paint, etc. out of reach, and in locked cabinets.
Always keep emergency phone numbers, including the Poison Control Center, by and on all telephones.
Kids also need to be safe while playing and having fun outside and while traveling.
Here are a few suggestions that you can do to keep them from harm outside of the home:
Childhood Safety Around Water

Never leave a child unattended in or by water, even for a few seconds.
Use proper life vest/flotation for children in and around all pools and hot tubs, and when boating.
Never leave children alone in a wading pool, or around buckets with water in them. It only takes approximately 2 inches of water to cause a child to drown.
Fence in pools and hot tubs. Keep gates closed and locked, and cover with proper protective devices. Keep pool ladders raised and locked when not in use, and consider purchasing a pool water movement alarm.
Childhood Safety Around/In Vehicles And Equipment
Make sure outdoor appliances are behind protective covers.
Restrict a child's access to equipment and vehicles in operation.
Before backing up a vehicle, walk around it and check the area for children and their toys.
Use proper seat restraints properly in vehicles. No children under 9 years old, or weighing under 80 pounds, should be placed in a front seat. Nor should a child safety seat be placed in a front seat, as deployed air bags can seriously injure the child.
Childhood Safety In Sports

Be sure children always wear appropriate helmets that are properly fitted when engaging in activities where falls are likely, such as: riding animals, hiking, rock climbing, skate boarding, cycling, playing baseball, football, lacrosse or hockey, enjoying snow sports like skiing and snowboarding, or while operating snowmobiles and all terrain vehicles (ATVs).
Supervise all contact sports, and forbid blows to the head.
Childhood Safety In The Yard
Insure that all tanks, wells and underground tanks are properly secured, and that any access to open water is restricted by fencing.
Insure that all tools and power equipment, both mechanical and electrical, is secured with any keys removed.
Childhood Safety On Playgrounds

Watch toddlers playing around hard surfaces as uneven grass, stepping stones, sloping lawns and hills can increase their risk of falls.
Make children aware of potential playground dangers before entering.
Supervise children on playground equipment, especially slides and monkey bars. Avoid taking children to playgrounds without a soft surface beneath equipment.
Cut all drawstrings off clothing. Drawstrings on hoodies, sweatshirts and coats can get caught on playground equipment and strangle a child.
Never leave children unattended on swings, or while playing in un-fenced areas.
Only allow children to ride solid, stable tricycles that are low to the ground. Also, watch where children ride. Steep downhill slopes or soft ground can make children lose control and fall.
Ensure that older children's toys are not accessible to smaller children.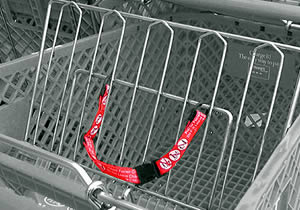 Childhood Safety At The Store
Never allow children to stand in, or on a shopping cart. Falls from carts almost always result in a child hitting their head against a very hard floor, causing some degree of childhood brain injury.
Never leave children unattended in a shopping cart.
Keep store shelves out of your child's reach to avoid them pulling product onto themselves.
We cannot stress the importance of protecting a child's brain from injury – in the home, in the car, and at play. A child's entire future depends on having a healthy, properly functioning brain, which includes making sure that it gets the nutrients necessary to operate at full capacity through all of the brain's developmental stages.