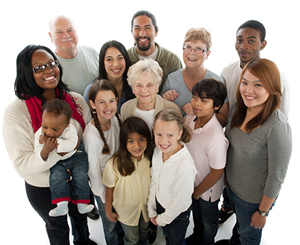 Finding support systems after a brain injury can be scary, but they can make a huge difference in rehabilitation, recovery and daily life for survivors and their loved ones.
There are a lot of wonderful and amazing people across British Columbia doing their best to assist survivors of brain injury and their families, so below is a directory to all known BC service groups and associations.
However, it can be tricky to find an association or group that you will be comfortable with, so in order to help, we have put together a list of recommended questions to ask when making first contact:
1. What are their hours and days of operation?
2. Are there any restrictions to membership and/or to receive services?
3. Are there any fees for services?
4. Are there fees for membership?
5. Do they have handicapped parking and access?
6. What services are provided?
Do they provide drop-in services?
Do they provide case management services?
Do they teach coping and compensatory skills?
Do they have rehabilitation activities and education?
Do they offer peer and support groups?
Do they have social functions?
Do they offer help with behavioral problems?
Do they have a resource library?
7. Membership:
How many members do they have?
What is the average age of members?
8. Staff:
How many staff do they have?
What are their professional qualifications/certifications?
Do they use volunteers?
Are there volunteer opportunities for survivors?
If you find a listing inactive, with information that needs updating, or if you would like to have your group, association or society added, please email the details to info@nbia.ca with 'Directory Listing' in the subject line.
Alberni Valley Head Injury Society
2826 Carmichael Crescent
Port Alberni, BC V9Y 7V6
Canada
Phone: 250-724-6772
B.R.A.I.N (Brain Resource Advocacy & Information Network)
B.R.A.I.N.
c/o #1001- 525 8th St
New Westminster, BC V3M 6H2
Canada
Email: brain@telus.net
Phone: 604-540-9234
BC Centre for Ability
2805 Kingsway
Vancouver, BC V5R 5H9
Canada
Email: info@centreforability.bc.ca
Phone: 604-451-5511
Website: http://www.centreforability.bc.ca
BrainTrust Canada – Kelowna Office
#11 – 368 Industrial Ave
Kelowna, BC V1Y 7E8
Canada
Email: info@braintrustcanada.com
Phone: 250-762-3233
Website: http://www.braintrustcanada.com
BrainTrust Canada – Vernon Office
120, 4412-27th street
Vernon, BC V1T 4Y4
Canada
Email: infovernon@braintrustcanada.com
Phone: 250-307-6064
Website: http://www.braintrustcanada.com
Bulkley Valley Brain Injury Association
3862B Broadway Avenue
Smithers, BC
Canada
Email: program_manager@bvbia.ca
Phone: 250-877-7723
Website: http://www.bvbia.ca
Campbell River Head Injury Support Society
591 9th Ave
Campbell River, BC V9W 4B5
Canada
Email: info@crhead.ca
Phone: 250-287-4323
Website: http://www.crhead.ca
Comox Valley Head Injury Society
102 – 254 Simms St.
Courtenay, BC V9N 5W1
Canada
Email: ed.cvhis@gmail.com
Phone: 250-334-9225
Website: http://www.cvhis.org
Fraser Valley Brain Injury Association
#204-2890 Garden Street
Abbotsford, BC V2T 4W7
Canada
Email: info@fvbia.org
Phone: 604-557-1913
Website: http://www.fvbia.org
Interior BC Brain Injury Services South Okanagan
246 Martin Street Suite 105
Penticton B.C. Canada
Phone: 250-487-0236
Website: http://www.bisso.ca
Kamloops Brain Injury Association
408 Victoria Street
Kamloops, BC V2C 2A7
Canada
Email: kbia@kbia.ca
Phone: 250-372-1799
Website: http://www.kbia.ca
Langley Community Support Groups Society
Walnut Grove Community Centre
8889 Walnut Grove Drive
Langley, BC
Canada
Phone: 604-882-4672
Nanaimo Brain Injury Society
285 Prideaux Street
Nanaimo, BC V9R 2N2
Canada
Email: info@nbis.ca
Phone: 250-753-5600
Website: http://www.nbis.ca
North Okanagan Shuswap Brain Injury Society
PO Box 760
250 Alexander St.
Salmon Arm, BC V1E 4N8
Canada
Email: nosbis@sunwave.net
Phone: 250-833-1140
Northern Brain Injury Association (NBIA)
1070 Fourth Ave.
Prince George, BC V2L 3J1
Canada
Email: info@nbia.ca
Website: http://www.nbia.ca
Planned Lifetime Advocacy Network (P.L.A.N)
#260- 3665 Kingsway
Vancouver , BC V5R 5W2
Canada
Email: inquiries@plan.ca
Phone: 604-439-9566
Website: http://www.plan.ca/
Powell River Brain Injury Society
201-4741 Marine Avenue
Powell River, BC V8A 2L2
Canada
Email: prbig@telus.net
Phone: 604-485-6065
Website: http://www.braininjurysociety.ca
Prince George Brain Injured Group Society
1070 Fourth Ave.
Prince George, BC V2L 3J1
Canada
Email: alison.hagreen@pgbig.ca
Phone: 250-564-2447
Website: http://www.pgbig.ca
South Okanagan Similkameen Brain Injury Society
# 2 – 996 Main St.
Penticton, BC V2A 5E4
Canada
Email: info@sosbis.com
Phone: 250-490-0613
Website: http://www.sosbis.com
Strive Living Society
Head Office
#500 – 4370 Dominion Street
Burnaby, BC V5G 4L7
Email: info@striveliving.ca
Phone: 604-936-9944
Fax: 604-936-9003
Website: http://striveliving.ca
Powell River Office
4746 Joyce Avenue
Powell River, BC V8A 3B6
Email: powellriver@striveliving.ca
Phone: 604-485-2220
Fax: 604-485-2228
Website: http://striveliving.ca
Vancouver Brain Injury Association
220-145 Chadwick Court
North Vancouver BC V7M 3K1
Email: help@vbia.ca
Phone: 604-779-2472
Website: http://www.vbia.ca
Victoria Brain Injury Society
Unit D & E 830 Pembroke Street
Victoria, BC V8T 1H9
Canada
Email: admin@vbis.ca
Phone: 250-598-9339
Website: http://www.vbis.ca
West Kootenay Brain Injury Association
2nd Floor, 709 – 10th Street
Castlegar, BC V1N 2T7
Canada
Phone: 250-304-1259
Website: http://www.wkbianews.com/