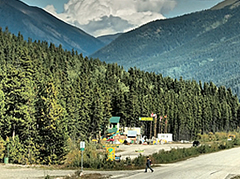 The Northern Brain Injury Association was founded in 2002 in response to the lack of services that were available for Northern British Columbia survivors of brain injury, and their families. The NBIA was incorporated as a society in 2007, and became a registered charity in 2009.
It is the NBIA directors' belief that the many geographical and climatic challenges faced by northern BC residents should not result in isolation or exclusion from services, family or community, so we provide creative and diverse responses to their unique challenges.
Today the Northern Brain Injury Association of British Columbia (NBIA) works to prevent brain injuries, provide recovering residents with support, and to facilitate full inclusion and citizenship within their community. We serve a geographic area that is approximately two thirds of the entire province of British Columbia, Canada.
We are committed to durable, long-term outcomes through a focus on comprehensive planning, the establishment of community support systems, and by connecting northern British Columbians with necessary brain injury education and support. Our programs and services are geared to support survivors, family and community members where they live, work and play, and to connect them with available services and resources as close to home as possible.
Using face-to-face interaction whenever possible, we also use modern technology, such as teleconferencing and computers to overcome geographic obstacles, insuring that even those in remote communities wishing to participate in support groups are able to do so.
Education about brain injury is critical to community health, so we provide every community in northern BC with educational materials, brain injury prevention posters, instruction and advice to prevent brain injuries upon request. We also participate in events, conduct workshops, deliver school presentations and facilitate community based support groups for survivors and families.
The Northern Brain Injury Association currently has employees in Quesnel, Terrace, Prince George and Dawson Creek.
Tekah Sabal, our Terrace employee, is responsible for community education, group facilitation, and direct client services in Terrace, Kitimat and the Nass Valley. Tekah facilitates the Kitimat support group as well as the Terrace support group.
Angie Dokken, our Dawson Creek employee, is responsible for group facilitation and case management in Dawson Creek and surrounding communities.
Megan Piket is responsible for case management, group facilitation, community brain injury awareness initiatives and events in Quesnel.
Lauren Dohler is responsible for case management, group facilitation, community brain injury awareness initiatives and events in Smithers and surrounding communities, including Houston and the Hazeltons.
Individual Solutions – Community Empowerment
We know communities make a huge difference in the recovery and quality of life of brain injured victims, so moving forward, we will continue to expand our comprehensive network of support and resources. The Northern Brain Injury Association is proud to be here for northern BC brain injury survivors and their families, and to be able to provide them with support and services they need as close to home as possible.
Integrity:
We are committed to ensuring that our actions coincide with the values we embrace. We accept responsibility for our actions and are accountable to the survivors, families and communities we serve.
Learning:
We are committed to continual learning, which helps us to grow, be creative, and move towards new possibilities in support of our vision.
Respect:
We honour, through our attitudes and behaviours, the inherent worth of individuals, families and communities and recognize that all are interconnected.
Open Communication:
We listen and say what needs to be said in constructive ways. We seek to understand and address conflict directly and respectfully in order to support and strengthen people, families and community.
Inclusiveness:
We foster a sense of safety and inclusion among those with whom we work. We enhance our ability to serve and enrich the experience by collaborating with other individuals and organizations. We appreciate and understand that together we are able to create something greater than what we can achieve alone in our effort to meet the needs of survivors, families and communities.
Commitment:
We are committed to doing our best at all times. Our commitment is driven by our strong desire to prevent prevent brain injury, and to provide support to survivors, families and communities.
Service:
We serve from our hearts in ways that create a world where survivors of brain injury and their families are nurtured, valued and safe.
We value inclusion, social justice, and collaboration. And we believe that, when we work together and learn from each other, these values can transform conflict into understanding; that understanding can transform hurt-filled households into healthy homes; and that healthy families can transform unjust societies into strong communities. That is why, at The Northern Brain Injury Association, our goal is to build safe and healthy communities. We encourage all northern British Columbia schools, libraries and community groups to partner with us to build a healthier, happier British Columbia.