Tinnitus is the perception of sound heard within the human ear, when there isn't any outside noise that others can hear. Derived from Latin, tinnitus means "to tinkle, or to ring like a bell", and is a condition frequently experienced by persons with an acquired brain injury, frequently described as a noise, or ringing in the ears.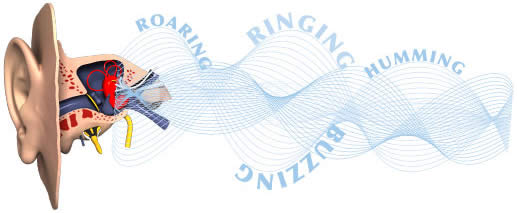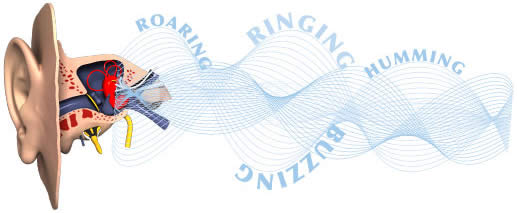 A common problem, tinnitus affects about 1 in 5 people. The Canadian Tinnitus Association estimates that 360,000 Canadians have tinnitus, and approximately 150,000 find that it seriously impairs the quality of their life.
Tinnitus is not a disease. It is a condition that can result from a wide range of underlying causes, such as neurological damage (like brain injury or multiple sclerosis), ear infections, oxidative stress, foreign objects in the ear, nasal allergies that prevent (or induce) fluid drain, wax build-up in the ear and exposure to intense percussive and loud sounds.
Tinnitus can occur in one or both ears, constantly or intermittently, be perceived to come from inside or outside of the ear(s), be progressive, pulsing, or vary in intensity and pitch.
Sounds may occur simultaneously, and are described as ringing, hissing, static, crickets, screeching, sirens, whooshing, roaring, pulsing, ocean waves, buzzing, clicking, dial tones and even music.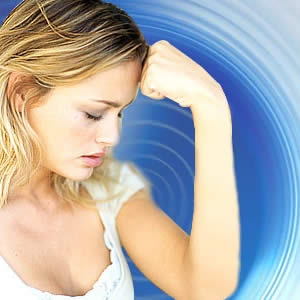 Most of the individuals that seek help suffer from constant tinnitus, or tinnitus that lasts 24 hours a day, seven days a week. Although bothersome, tinnitus usually isn't a sign of something serious.
The most common causes are head injury and noise-induced hearing loss.
Withdrawal from benzodiazepines and in-ear earphones, whose sound enters directly into the ear canal without any opportunity to be deflected or absorbed elsewhere, are common causes of tinnitus.
Although it can worsen with age, for many people, tinnitus may improve with treatment. Treatments include identifying and healing an underlying cause, or reducing or masking the noise to make the tinnitus less noticeable.
Feelings of pressure (aural fullness) or pain in or around the ears may accompany tinnitus.
Individuals with more severe cases of tinnitus may find it difficult to hear, work, or sleep.
Although tinnitus does not cause hearing loss, it can interfere with the ability to communicate.
Some cases of tinnitus can involve 'hyperacusis' (intolerance of sound), such as ordinary sounds perceived as being uncomfortably loud and harsh. It is estimated that 40% of individuals who suffer from tinnitus experience hyperacusis, but it can occur without tinnitus.
Treatment of Tinnitus
For the most part, tinnitus usually goes away by itself without treatment, but it is permanent in about 25% of all cases.
Because tinnitus is usually a symptom of a problem, such as an illness, treating the initial cause should help get rid of, or at least lessen, the sounds.
Treatment may occur simultaneously, and depends on the cause and intensity.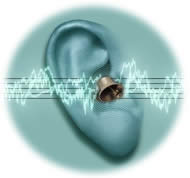 It is usually one of the following:
antibiotics for infections
removing obstructions or wax from the ear canal
changing medications or dosages
treating certain neurological illnesses
surgery to correct joint problems
counselling for stress or depression
dental work
When the cause of tinnitus can't be found, or if the cause is something that can't be fixed, there are alternative methods to help to live with tinnitus.
Whether or not this is necessary, will depend on how loud and persistent the sound is, how annoying it is to the person, and if it's disturbing their daily life.
Some people with severe tinnitus use a technique called 'masking', in which a device is worn, much like a hearing aid, which provides a soothing or pleasing sound.
This sound hides the annoying ringing or humming. The sounds can be different for each person. For example, some people may prefer to listen to the sounds of the great outdoors – bird calls, falling rain, or waterfalls.
In some cases, masking can "train" the brain not to hear the annoying noises, and, after a while, the device might not be needed all the time.
Other people don't need constant masking, but use the technique when they're trying to fall asleep, concentrate, or rest. For this, they might use radios, CD players, or even household appliances like fans or air conditioners (this type of background masking is called "white noise").
Calm Radio is extremely proud to introduce sixteen new "Atmosphere" channels for Tinnitus and Ringing-in-the-Ears sufferers. These channels come in varying degrees of noise colors. From whitenoise, to pinknoise and brownnoise…depending on the severity of the ringing you are experiencing.
There is also an internet radio station, that for a small monthly fee, provides a wide variety of masking sounds 24/7. The url is www.calmradio.com, and the stations that are specifically designed to help with tinnitus, are found under the 'Relaxation' and 'Atmospheres' links.
And last, but not least, if you suffer from tinnitus, you join some pretty high profile people throughout history known to have had it too. Here are just a few: Ludwig van Beethoven, William Shatner (Star Trek's Captain Kirk), Richard Attenborough, Jeff Beck, Bono, Eric Clapton, Phil Collins, Charles Darwin, Vincent van Gogh, Adolf Hitler, Howard Hughes, David Letterman, Huey Lewis, Martin Luther, Steve Martin, Martin McGuinness, Michelangelo, Roger Miller, Liza Minnelli, Leonard Nimoy, Ozzy Osbourne, Tony Randall, Ronald Reagan, Alan Shepard, Paul Simon, Barbra Streisand, Pete Townshend, Alex Trebek, Will.I.Am and Neil Young.
---
Resources
www.healthierchoices.ca
www.en.wikipedia.org/wiki/Tinnitus